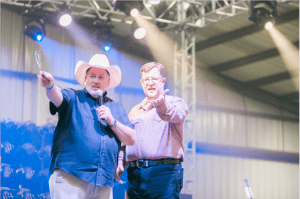 Charitable giving is a major commitment at The PM Group. Our agency leadership team will play a major role in six major fundraisers this year benefitting over a dozen local charities that aid medical research and animal rescue, fight child abuse, assist paralyzed veterans, support educational needs, benefit first responders and bring joy to struggling families at Christmas through the Elf Louise Christmas Project.
The Cattle Barons Gala was a significant success for Bob & Peggy Wills whom chaired the Live Auction Committee.
"We are blessed to have done so well with this event. We couldn't have done it without the incredible support of our friends in the media, Nissan of Boerne whom donated a $45,000 pick-up truck and Santikos Theatres", stated PM Group CEO Bob Wills.
Santikos Entertainment CEO David Holmes and PM Group CEO Bob Wills auction off "Santikos Movies for Life" at the 38th Annual San Antonio Cattle Barons Gala