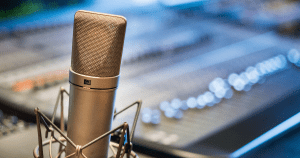 Although podcast advertising has been around for several years, it's still increasing as data shows more and more consumers will be listening to podcasts across different platforms. In 2019, Infinite Dial found that 70% of the population was familiar with podcasting – a jump of 20% over the last 5 years. They also found 20 million more people in the U.S. listened to a podcast when compared to 2018. There's no denying the data shows podcast consumption is growing; so, what does this mean for advertisers?
Advertising revenue for podcasts is forecasted to exceed $1 billion by 2021 (IAB and PwC) which presents a lucrative and promising new advertising medium for brands. Smaller companies like Squarespace, SimpliSafe, and Quip led the way over the last couple of years with how much they invested in the media, but it's important to note that big brands like Delta, IBM, and American Express are joining as well. Big or small, companies are seeing the benefits of this new outlet and the increase in use gives more data as to what works best for consumer interactions.
One of the benefits of podcast advertising is that you don't have to sponsor the biggest podcasts and pay the highest rates. There is data to show the majority of podcast listeners are millennials, well educated, and more affluent which means you can reach them both on the more popular and less popular podcasts. The person who listens to a financial planning podcast may also be listening to comedy or sports. So, on a platform where frequency matters more than reach, buying more spots on a podcast that may be less popular may be the best bang for your buck.
If you're interested in learning more about podcast advertising and how it can elevate your brand, reach out to us at The PM Group. We can help you strategize the best ways to utilize not only this newer advertising medium but others as well.
About The PM Group: The PM Group was founded in 1988. For over 31 years, the agency has continued to grow and is San Antonio's largest advertising agency. The PM Group's client roster spans numerous industries including automotive, CPG, entertainment and sports marketing, legal, business services, non-profit, real estate and fitness. In addition, the agency hosts an annual Charity Gala that to date has raised millions of dollars for local San Antonio area non-profit organizations in the last 15 years! In the past 10 years, The PM Group has raised both directly and indirectly over $12 million for these charities. It is our way of giving back to the community that we so humbly serve.