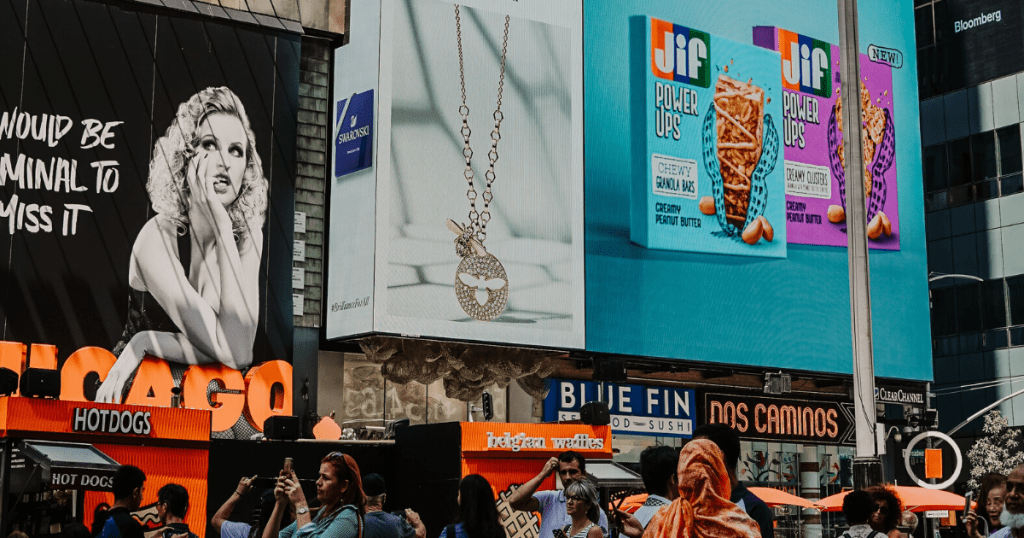 Some say traditional out of home advertising is fading away in terms of relevance. The billboards you see along the highway may seem outdated, but some brands have shown that using their creativity and innovative forward-thinking will keep the out of home industry alive and well in the years to come.
Thanks to the rise of technology, OOH is expected to have positive growth globally over the next several years, according to outdoor companies like Clear Channel Outdoor, Inc., JCDecaux, and Lamar Advertising Company. This growth includes much more than billboards. Brands like Delta could be part of the evolving industry, creating an unprecedented, personalized user experience for travelers. Revealed at the 2020 Consumer Electronics Shows, Delta showed how their technology will allow for Delta travelers to not only have personalized text message updates about their travel schedule, but also the possibilities of being shown personalized messages on airport signage when they walk up to airport video screens. The innovative factor is that several travelers could be seeing their personalized messages on airport signage all at the same time. The capabilities of OOH and technology seem endless and will only increase consumers' positive interactions with brands as time goes on.
Although technology propels many industries forward, OOH's growth isn't only limited to emerging tech. There are ways many brands and even entertainment agencies have stepped up the game to become more relevant and eye catching to consumers. For example, with the recent release of the series Dracula on Netflix, London streets have included new billboards to promote the series. During the day, the board may look like a gory, modern art piece, while at night the display comes to life to show the shadow of Dracula's face thanks to a trick of light. To mirror the show's plot line, vampires only come out in the shadows, and passers by can rest assured they will be safe thanks to the "in case of vampires – break glass" box underneath each board.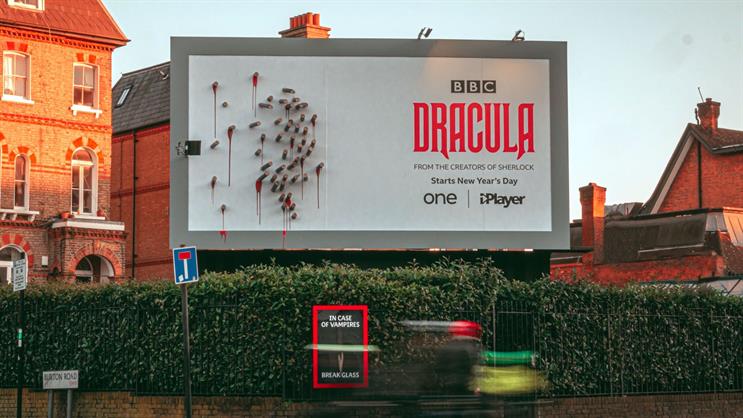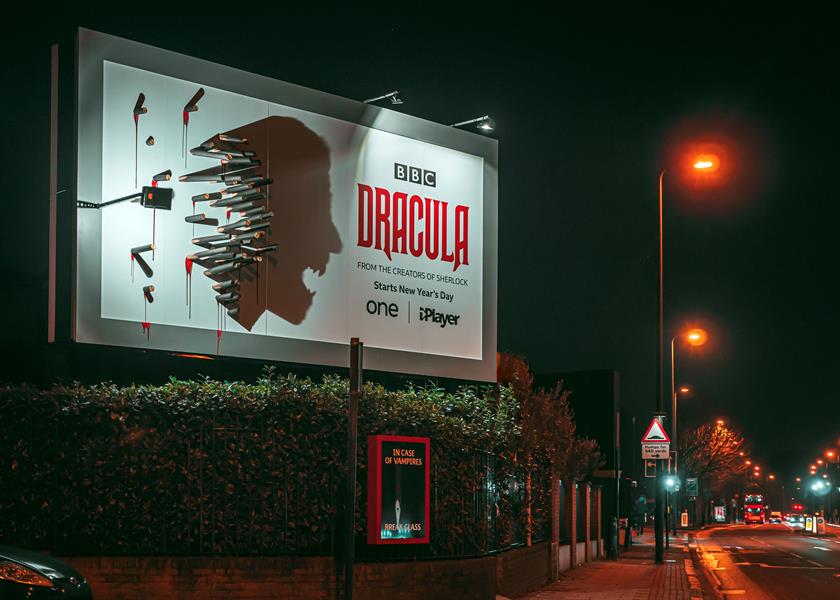 campaignlive.co.uk
Although OOH will always have its traditional uses that brands can take advantage of, incorporating creativity and innovating brainstorming can lead to more positive user experiences and overall increased brand relationships with consumers. If your brand is looking to step outside of the OOH box, contact The PM Group, and we can help take your OOH ideas to the next level.
About The PM Group: The PM Group was founded in 1988. For over 31 years, the agency has continued to grow and is San Antonio's largest advertising agency. The PM Group's client roster spans numerous industries including automotive, CPG, entertainment and sports marketing, legal, business services, non-profit, real estate and fitness. In addition, the agency hosts an annual Charity Gala that to date has raised millions of dollars for local San Antonio area non-profit organizations in the last 15 years! In the past 10 years, The PM Group has raised both directly and indirectly over $12 million for these charities. It is our way of giving back to the community that we so humbly serve.