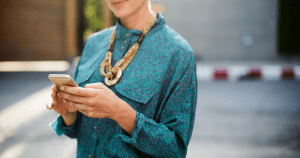 Adweek recently posted a POPSUGAR Insights study on specific data regarding women's smartphone usage. The data is clear. Women look to their phones for much more than calling and texting. This is no surprise given how advanced leading phones like the Apple iPhone and Samsung Galaxy have become, but the numbers may prove that the "Swiss Army Knife" of the digital world is more highly utilized than some may think.
According to POPSUGAR Insights, 50% of all women own two mobile phones, supposedly one for work and one for personal use.  Additionally, 96% of women now consider their phone to be their primary camera, 89% use it as their main weather source, 83% use it as their primary calendar, and 25% of women use it as their wallet. This is perhaps one of the boldest stats of all as digital wallets have become more popular with users preferring Apple and Android Pay in favor of swiping a traditional credit card.
In regard to advertising, 73% of women use their phone as their go-to news source and 72% use it as their media player. Because so many women are on their phones so frequently, brands targeting this demographic would be wise to invest in mobile-ready advertisements and promotional content.
For the complete study, check out this article.
About The PM Group: The PM Group is a San Antonio advertising agency focused on producing significant and measurable results for our clients. The PM Group is proud of our dedicated account service executives, award-winning creative department, and unmatched media clout. If your marketing presence needs a face-lift or your business needs more results, faster – there's only one advertising agency in San Antonio to call.