You can take a moment to appreciate how far our technology has come when you don't even have to turn on your computer or unlock your phone to place an online order. That's why people of the world rejoiced when Amazon released their first Dash Button, back in 2015. Leave it to Amazon to come up with more advanced ways to raise our expectations for other brands to keep up with this convenience trend.
Click to Order
The dash Button was the first of its kind – allowing consumers to order what they needed with just one click. So, if the Dash Button was so innovative and convenient, why is Amazon choosing to retire it?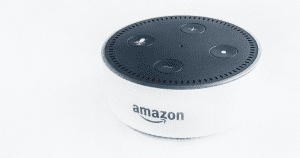 Dash Buttons served their purpose by minimizing the time it takes consumers to shop for the much dreaded, household items. Is anyone ever excited to go shopping for toilet paper and laundry detergent?  The Dash Button allowed consumers to press click whenever they needed to restock on products, making this process as seamless as possible. Moving forward, Amazon will simplify this process by transitioning to voice assistance orders. Now, consumers can utilize their Amazon Echos by simply asking Alexa to restock for them (we don't even have to get up and push a button!).
For those who already have Dash Buttons, no need to worry, Amazon will still fulfill orders placed through pre-existing Dash Buttons. However, customers can no longer purchase one. Essentially due to all of the corporate giant's latest improvements, they have simply made the Dash Button unnecessary by their own line of product innovations.
Amazon users can also expect to see some extensions of the Dash Button such as the digital Dash Buttons on your Prime home screen, offering one-click options for some of your most frequently ordered items. Another option Prime members may have seen, is the 'subscribe and save' option for many household restock-able items. The purpose of the subscription is to allow consumers to automatically restock before their supply runs out.
Alexa Steals the Show
Not too long ago, Amazon customers raised their concerns with the Dash Button because price increases were not disclosed until the credit card was charged for the order. Customers were shocked to find that the product they ordered with their Dash Button for had gone up in price. Voice assistance could potentially be the answer since consumers would be able to ask Alexa how much something costs before they order it.
Amazon's decision to ultimately retire their 'click to order' Dash Buttons may be a move in the right direction. Amazon's ability to identify these types of innovative replacements is what will keep their brand in the lead. While they have mastered the art of ease and convenience, many competitors are also looking for ways to make consumers' lives easier. Voice assistance technologies like the Amazon Echo (Alexa) is what takes that convenience to the next level.
Although Amazon has nearly perfected the retail consumer experience, their strategies can be used across all industries. If you're interested in staying ahead of the curve against your competition, your brand should be looking for ways to make consumer accessibility and consumer experience a top priority. The PM Group strives to incorporate this method into our own work by making processes seamless and allowing our clients to have a stress-free business experience. By shifting the focus to the user, your customers will remain loyal, allowing you to establish long-term relationships.
About The PM Group: The PM Group was founded in 1988. Over the past 30 years, the agency has continued to grow and is currently listed as San Antonio's Largest Advertising Agency by the San Antonio Business Journal. The PM Group's client roster spans numerous industries including automotive, CPG, entertainment and sports marketing, legal, business services, non-profit, real estate and fitness. In addition, the agency hosts an annual Charity Gala every February that to date has raised over $3 million for local San Antonio area non-profit organizations in the last 15 years! It is our way of giving back to the community that we so humbly serve.