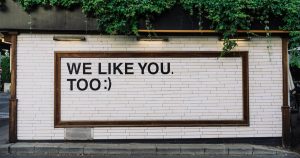 As humans, we love stories. Our unquenchable thirst for compelling, relatable narratives seep into our everyday lives, especially as adults. For this reason, storytelling and attempting to relate to consumers on an emotional level is one of the most influential approaches in advertising today.
Today's consumers, including the ever-important millennials, want to interact with brands, not just receive messages from them. They want to foster a relationship that connects on deep emotional and psychological levels. A fellow expert in the field and regular contributor to Forbes, Billee Howard would agree. She recently identified three major trends disrupting the marketing world, and all of them referenced relating to consumers on a deeper level.
The first trend shows many marketers and brands are investing heavily to "move brand purpose into the heart of business strategy." According to Howard, "This unifying theme serves to strategic(lly) blend business and brand in ways that create experiences centered around, in some way, making tomorrow better than today."
The second trend is to drive engagement of the heart. Many marketers and advertising professionals are finding that fostering an emotional connection is far more compelling than a logical one. Agencies are investing millions to create lasting connections between client products, services, and message and consumers. Whether they are considering a potential partner, a new pet, or any significant life choice, most people end up siding with their heart. As humans, we tend to make a surprisingly few decisions purely based on logic.
The third trend, falling well in line with the previous two, is to remember that customers don't buy into things… They buy into stories and narratives that connect with them on a deeper level. Price point marketing and sales can create a sale, but emotional connections and relationships create life-long customers.
In a way, the three major trends in marketing and advertising are actually just one trend. Connect with consumers, build a brand, tell stories, and interact with customers like friends, not clients. At The PM Group, we believe in our award-winning strategic planning and strive every day to push boundaries, re-think the "possible", and redefine our client's business' through the science, not magic, of excellent marketing.
For more on this, check out Billee Howard's article on Forbes HERE.
About The PM Group: The PM Group was founded in 1988. Over the past 30 years, the agency has continued to grow and is currently listed as San Antonio's Largest Advertising Agency by the San Antonio Business Journal. The PM Group's client roster spans numerous industries including automotive, CPG, entertainment and sports marketing, legal, business services, non-profit, real estate and fitness. In addition, the agency hosts an annual Charity Gala every February that to date has raised over $2.5 million for local San Antonio area non-profit organizations in the last 15 years! It is our way of giving back to the community that we so humbly serve.